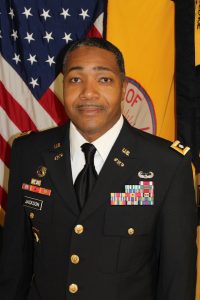 LTC (Dr.) Vincent L. Jackson
Chair Department of Military Science and Professor of Military Science
(662) 915-7085  |  vljacks1@olemiss.edu
LTC Vincent Jackson was born in Landstuhl, Germany and his hometown is Miami, FL. He received his commission as a Chemical Officer from Florida International University in April 2002. He holds a Doctor of Education Degree in Organizational Change and Leadership from the University of Southern California, a Master of Science Degree in Athletics Administration and Coaching from Western Kentucky University, a Master of Arts Degree in Museum Studies from the University of Oklahoma and a Bachelor of Science Degree in Mass Communications from Towson University.
His previous assignments include Battalion Chemical Officer, 2nd Battalion, 320th Field Artillery Regiment and Division Chemical Operations Officer, 101st Airborne Division Fort Campbell, KY; Platoon Leader/Observer Controller and Trainer, 3-347 Infantry Regiment, Orlando, FL; HHD Commander, 158th Infantry Brigade, Patrick Air Force Base, FL/Camp Shelby, MS; Assistant Division CBRN Officer, 1st Armored Division, Fort Bliss, TX; G34 CBRN Operations Officer, 8th U.S. Army, Yongsan, Republic of Korea; CBRN Operations and Plans Officer, North American Aerospace Defense Command (NORAD), Tyndall Air Force Base, FL; CBRN Military Advisory Team Operations/Training officer and Team Leader, Defense Threat Reduction Agency (DTRA), Fort Belvoir, VA, and Division CBRNE Officer In Charge, 1st Cavalry Division, Fort Hood, TX.
LTC Jackson's deployment experience consist of serving as the Battalion Chemical Officer for 2nd Battalion, 320th Field Artillery Regiment, 101st Airborne Division (Air Assault) Forward as part of OPERATION IRAQI FREEDOM, Iraq in 2003 and again as the Division Chemical Operations Officer for the 101st Airborne Division (Air Assault) Forward as part of OPERATION IRAQI FREEDOM in 2005.
His military education includes the U.S. Army Chemical Officer Basic Course, the U.S. Army Logistics (Ordnance) Career Course, Intermediate Level Education at the U.S. Army Command and General Staff College, Joint Professional Military Education Level 2 Course at the Joint and Combined Warfighting School, Joint Forces Staff College, the U.S. Army Technical Escort Course, Joint Firepower Course, Nuclear Weapons Technical Inspection Course, Nuclear Emergency Team Operations Course, Space Operations Course, and U.S. Army Air Assault Course. LTC Jackson is also a Nuclear Target Analyst, Joint Planner and Joint Qualified Officer.
His military awards and decorations comprise of the Defense Meritorious Service Medal, Meritorious Service Medal, Joint Service Commendation Medal, Army Commendation Medal (with 4 Bronze Oak Leaf Clusters), Army Achievement Medal, Army Good Conduct Medal, Army Reserve Components Achievement Medal, National Defense Service Medal (with Star), Iraq Campaign Medal (with 4 stars), Global War on Terrorism Expeditionary Medal, Global War on Terrorism Service Medal, Korea defense Service Medal and the Air Assault Badge.
LTC Jackson is married to MAJ Nicole Jackson.