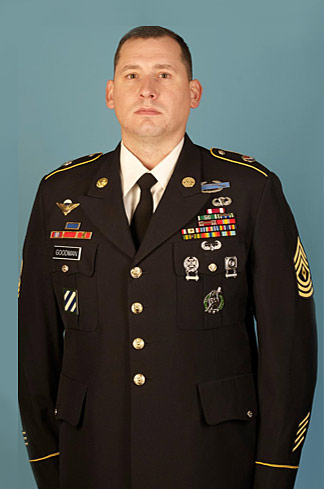 MSG TJ Goodman
Senior Military Instructor
tgoodma@olemiss.edu
A native of Muskegon, MI., he is married to his wife Jennifer and has three children, Alexa, Taylor and Rylan. He enlisted in the Army entering into Alpha Company, 2/58th Infantry Battalion in February of 2004 as an 11X. Upon completion of OSUT (One Station Unit Training) at FT Benning, GA. MSG Goodman's first assignment was as Rifleman in C Company, 3-505 Parachute Infantry Regiment, 82nd Airborne Division. While assigned to the 82nd Airborne Division he attend the Reconnaissance Platoon selection and was selected as a Radio Telephone Operator and a member of the Reconnaissance and Surveillance Team. In October of 2006 he was assigned to 1st Battalion, 30th Infantry Regiment, Fort Stewart, GA. He served as the Radio Telephone Operator and a Team Leader in the Sniper Section. During this assignment he deployed in 2007–2008 as a part of the "Surge" in Operation Iraqi Freedom in Arab Jabour as a member of the Sniper Section. In December of 2008, he was assigned to 1st Battalion 3rd Infantry Regiment (The Old Guard) located at Joint Base Myer-Henderson Hall, Alexandria, VA. He served as an Escort Platoon Squad Leader in charge of the Company Colors Squad. He was later selected to become a Squad Leader in the Caisson Platoon and transitioned in the Operations NCO position for the platoon. In 2013 he was assigned to the 2nd Battalion 12th Infantry Regiment at Fort Carson Co. He served as a Platoon Sergeant while a member of 2-12 Infantry until his inner post transfer in 2014 to 2nd Battalion 8th Infantry Regiment where he served as a Platoon Sergeant. In 2015 he was forward deployed to Qatar in support of Operation Enduring Freedom. In 2016 he was assigned to the United Sates Army Recruiting Command, in the Knoxville Recruiting Company. In 2018 1SG Goodman took responsibility as the Company First Sergeant for Alpha Company, 2nd Battalion, 1st Infantry Regiment in the 2nd Stryker Brigade Combat Team. MSG Goodman assumed Responsibility of HSC, 7ID in December 2019 where he led the company through the COVID-19 Pandemic and multiple training exercises foreign and domestic.
MSG Goodman holds an Associate's degree from American Military University and earned his Business Bachelors of Science Degree in Business Management from Post University. His military education includes the Basic Leader Course, Advanced Leaders Course, Senior Leaders Course, Master Leaders' Course, Army Recruiter Course, Airborne School, Air Assault School, and Battle Staff.
MSG Goodman's military awards and decorations include the Meritorious Service Medal (2nd award), Army Commendation Medal with (7th award), Army Achievement Medal with (5th award), Good Conduct Medal (5th award), National Defense Service Medal, Iraq Campaign Medal with (1 campaign star), Global War on Terrorism Service Medal, Global War on Terrorism Expeditionary Medal, Noncommissioned Officer Professional Development Ribbon (5th award), Army Service Ribbon, Overseas Service Ribbon, Valorous Unit Award, Army Superior Unit Award (3rd award), Drivers Badge (wheel), Combat Infantry Badge, Expert Infantry Badge, and the Army Recruiters Badge (silver).